"You feel like 'I get what I'm doing, I'm running to the side, I'm shooting enemies.' And then all of the sudden you drop down and you're in a diffrent section and you're like 'Oh cool.' And then a frigg'en BOSS shows up. And you're like 'Oh, this is like a GAME game!'..." ~Random Assault
---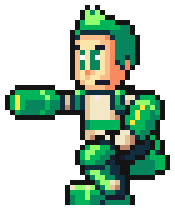 "In the year 16XX the city of Mecha-Tokyo has been infested with strange and powerful yōkai-bots! Where did they come from and why are they destroying the city? It's up to Giga, Tera and the other super robots to find out and stop them!"
Mecha-Tokyo Rush is an on-rails action platformer coming soon to PC and mobile with gameplay inspirations ranging from MegaMan and Contra to Robot Unicorn Attack and Canabalt. MTR uses simple 2 button controlls to adapt the feel of retro 8-bit platformers to modern platforms, while retaining the challenging platform puzzels and boss fights to give you the depth and difficulty you'd expect from a game right out of the late 80s in your hands today!
Features Include!
8 playable characters, each with their own weapons
Dozens of new pieces of equipment to unlock
Procedurally built levels
Loads of unique enemies and boss fights
...and always more content coming soon!
---
System Requirements


Windows
Android
Game Information

Platforms - Windows / Android
Cost - Free to play
Release - TBA
Players - 1
Genre - On-Rails Action Platformer


Credits

Designed & Created by Daniel Whiteman
Co-Produced by Jason Whiteman

.